A fruity and very sharp Sauternes with citrus aromas…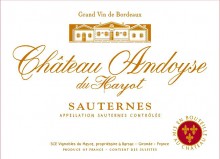 Château Andoyse du Hayot has belonged to the du Hayot family for generations. It is situated in the heart of Haut-Barsac on a splendid clay and limestone soil, with perfect exposure. The vine is 35 years old on average. Over 20 hectares our vineyard is planted with the traditional Sauternes varieties: 90% Sémillon and 10% Sauvignon. The hand-picking harvest lasts 5 weeks; the "successive sorting" method means 2 to 4 pickings for each plot.
Vinification is done through fermentation inside thermo-regulated stainless steel tanks and ageing lasts 2 years in stainless steel tanks.
Château Andoyse du Hayot produces 30 to 60,000 bottles a year.
We deeply respect the traditions that have contributed to the renown of Sauternes wines, but our estate also boasts some of the most modern winemaking techniques which help us further develop our wine's outstanding subtlety and unrivaled bouquet.
Millésime 2011
Silver medal – 2013 Blaye Challenge.
Millésime 2007
Gold medal – 2010 Bordeaux Contest.
Millésime 2006
Silver medal , 2009 Bordeaux Contest.
Bright golden colour. Sharp and distinctive nose, with white flowers, almond and honey aromas. The palate is silky liquid wrapped in freshness. A dense yet ethereal  wine perfect for aperitif or starters. 87/100. Tasted Dec 23, 2008
Guide des vins Gilbert @ Gaillard.
Millésime 2005
Golden colour. Intense fruity nose with citrus and blood orange aromas. Clear and expressive palate with pleasant exotic fruit notes. A powerful Sauternes that can rest for another 2 or 3 years. 87/100. Tasted Apr 22, 2008.
Guide des vins Gilbert @ Gaillard.