Sauternes, appellation d'origine contrôlée (AOC)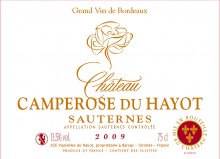 Over a surface of 3 hectares, the Château Camperose du Hayot vineyard is situated in Barsac on a clay and limestone soil which is ideal for its combination of 90% Sémillon and 10% Sauvignon.
The vines are 35 years old on average.
The hand-picking harvest lasts 5 weeks; the "successive sorting" method means 2 to 4 pickings for each plot.
Vinification is done through fermentation inside thermo-regulated stainless steel tanks and ageing lasts 1 to 2 years in stainless steel tanks.
Château Camperose du Hayot produces 10,000 bottles a year.