Hailed as one of the best wines back in 1850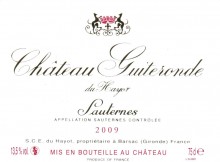 Château Guiteronde du Hayot is one of the oldest vineyards of the Sauternes-Barsac region. We know that back in 1800 it was owned by M. Journu, the president of the Guyenne Electoral College. The reputation of the wines produced here is very old. In 1850, Charles Cocks, a scholar at the University of France published a book titled: "Bordeaux, its region and its wines". The book listed the major Gironde wines and Château Guiteronde du Hayot was cited among the best Bordeaux white wines.
The vineyard lies in the heart of Haut-Barsac over 25 hectares on a superb clay and limestone soil; it is planted with a combination of 90% Sémillon, 9% Sauvignon and 1% Muscadelle.
The vines are 35 years old on average.
The hand-picking harvest lasts 5 weeks; the "successive sorting" method means 2 to 4 pickings for each plot.
Vinification is done through fermentation inside thermo-regulated stainless steel tanks and ageing lasts 2 years in stainless steel tanks.
Château Guiteronde du Hayot produces 30 to 60,000 bottles a year.
2006
Bronze medal at the 2008 Blaye Challenge.
2005
Silver medal at the 2011 Blaye Challenge.