Graves supérieures sweet wine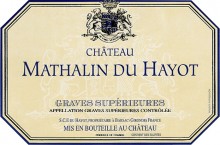 Château Mathalin du Hayot is a small-scale property situated in Mazères. The vineyard is 6.5 hectares wide and made of 75% Sémillon and 25% Sauvignon. On this clay soil we produce a fresh and fruity wine.
It is complemented by a 1-hectare plot located in Illats alongside our Sauternes plots and planted with 100% Sémillon, which lends a touch of roundness to our wine.
Les Sommeliers gourmands
"A beautiful and deep buttercup yellow colour with orangey hues and crystal-like brilliance. Elegant and fine scents: striking aromas with a floral start followed by honey and candied apricot. Clear exotic notes on the palate; the finish is mineral, with sustained aromatics."
Les sommeliers gourmands
Les Vins Poujat
"Nice golden yellow, ample, rich and generous palate. Good aromatic range and remarkable balance."
Concours de Bordeaux
Gold medal – 2009 Bordeaux Contest