Candied fruits with toasty notes…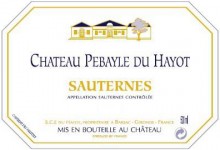 Situated in Barsac, the Château Pebayle du Hayot vineyard lies over 5 hectares on a clay and limestone soil.
The vines are 35 years old on average and they produce 10,000 bottles of Sauternes, with a combination of 90% Sémillon and 10% Sauvignon.
The hand-picking harvest lasts 4 to 5 weeks; the "successive sorting" method means 2 to 4 pickings for each plot.
Vinification is done through fermentation inside thermo-regulated stainless steel tanks and ageing lasts 1 to 2 years in stainless steel tanks.
2001 Vintage
A nice clear golden colour, candied fruits nose with toasty notes; the palate is ample, harmonious, concentrated and sweet.