Sauternes in all its glory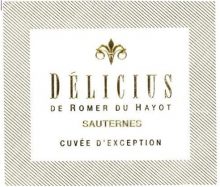 Délicius is a wine with a feminine touch: it is made by a woman, for women.
Over the generations, women have played a key part in Château du Hayot. Nowadays, it is Fabienne du Hayot's turn to express her own tastes with this special creation, Délicius.
Made from a selection of the finest batches, Délicius is a charming wine with an elegant gold complexion, full of light and brightness.
Its spring flowers, pineapple and fresh pear aromas will seduce you.
The palate is elegantly syrupy, balanced with a subtle freshness and white fruits, plum and peach flavours.